Diamond Grillz
Flooded Diamond Grillz come in different styles and patterns. This page will label and describe a few, show photos and give you a chance to buy what you like. All Diamond Grillz are available in:
You can also choose what color gold you want. The choices are:
Yellow Gold (traditional gold),
White gold (looks like silver)
Rose Gold (Reddish color Gold)
Here are the different style Diamond Grillz we selected to describe:
Princess Cut Invisible Handset
Princess Cut Channel Set
Honey Comb Flooded
Pave Flooded Diamond Set
Diamond Lettering
Open Face
Colored Diamonds
Invisible setting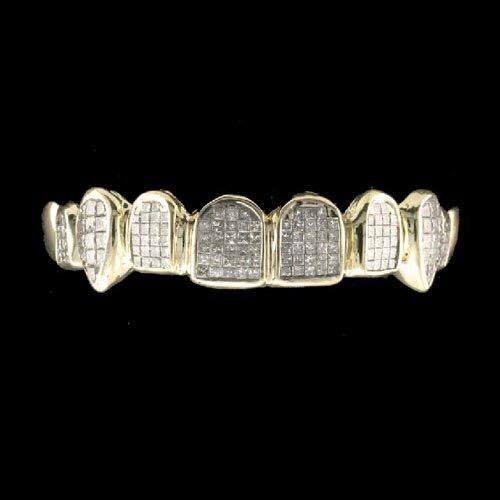 is a mounting that holds stones inside the grill so that the setting it self is not not seen at all. Grillz With regular setting you can see prongs or bezels the diamonds in an invisible setting look as they are healed by nothing. Princess cut diamonds are square shape diamonds and they are all set back to back inside each cab of the grill there are different types of invisible said different sizes different millimeter stones but all of them are all set back to back the most expensive exclusive way to get your invisible say grill made is handset the hand setting makes the grill much neater and thin and gets away from it looking bulky in clunky and Jackie he definitely want to get a hand setting. The price of hand setting triples the price of just pre set invisible set pieces that are soldered onto the front of caps as an attachment. Invisible Sets come in top and/or bottom
A Channel Settings is 4 x 2 strips of precious metal with Grooves on both sides of the wall that holds the diamond securely in place the strips normally run along the tip of the teeth or through the middle going in different custom pattern so it could be diagonal going to the middle straight up and down or horizontal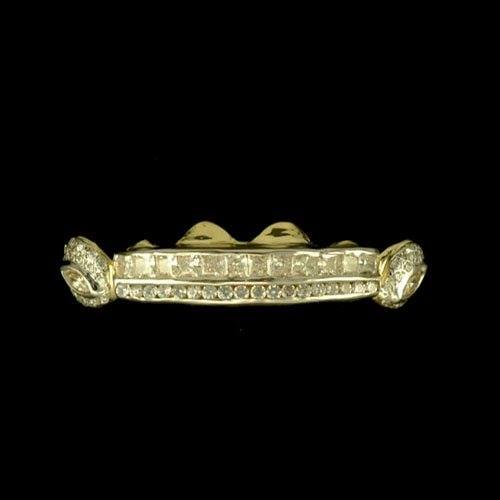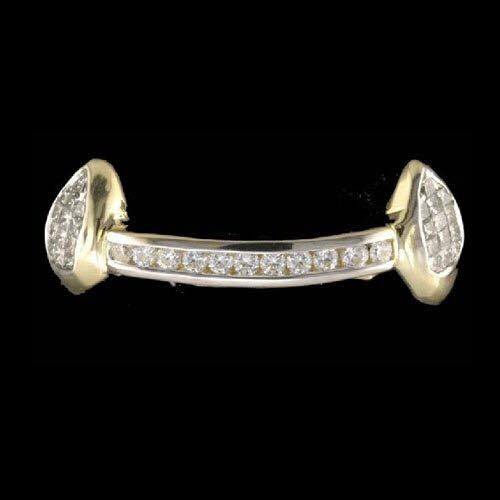 Colored Diamond Grillz are sweet. They come in All different color diamonds: Red Diamonds, Blue Diamonds, Black Diamonds, Yellow Diamonds and More. It can be patterned using different types of stones. Princess Cut, Round Diamonds even Baguette diamonds come in beautiful colors. putting 2 or 3 colors in one grill is done sometimes to make a logo or a name into the Grillz. You often see a princess cut invisible set grill with different colors.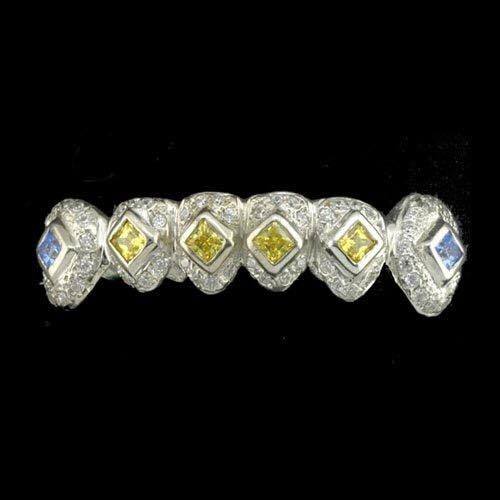 Honey Comb Setting
If  your looking for a flooded diamond grill with lots of diamonds, we recommend the Honey Comb setting. Honey Comb is a style of Pave setting that uses small diamonds placed in very small holes throughout the caps, it looks just like a honey comb with the diamonds playing the part of the holes. with plain vision no setting metal is visible, you only see the multitude of diamonds sparkling, glistening and changing colors in the light. Honey Comb setting is a little more fragile and delicate compared to other setting because of the amount of diamonds it takes to complete the designs. This style of Diamond Grillz are at the top of the list right now as being picked by people who really wanna shine.
Diamond Lettering
Diamond Grillz with lettering can come on open face grillz or solids.
open face letters puffed up, full of high quality diamonds. a lot of people put their name or initials when they decide to get lettering on their grill. sometime people flip the script and get symbols on their golds as well. Probably the most popular "stereotype" would be the playboy bunny or a dollar sign. but people get a lot more stuff than that. People get stars, roses, crosses, weed leaves, hearts, we even made a Dallas cowboy helmet with the star.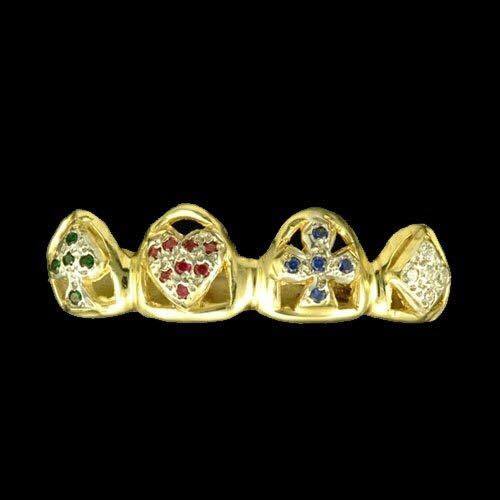 Invisible set diamond letters and symbols are another type of lettering we we use making our lettering. The invisible set letters are done with colored diamonds making the letter or symbol and the background is done with another color. All of these diamonds are handset. These Grillz start at $8500 for 6 caps.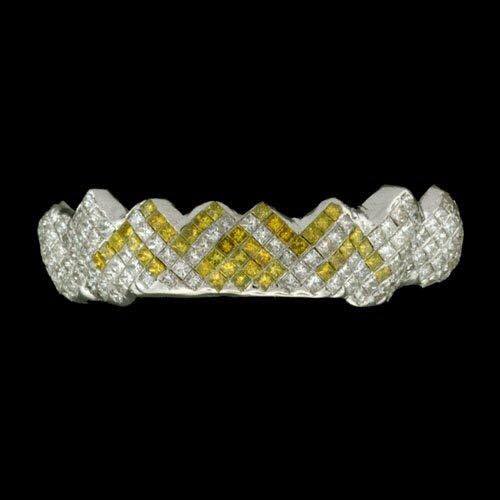 Diamond Open Face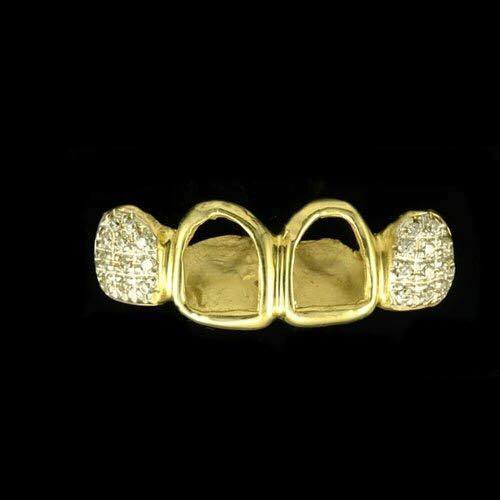 Our open face are made a few different ways:
Thick
Squared
Thin
Lettering
Open with Bars through the middle
All of these different types of open face we flood them all with diamonds.
Diamond Grillz are a trending status symbol,  all the different style diamond designs are made to fit different personalities and how someone wants to enhance their smile. Some diamond designs are actually laid back if we are grading on a sliding scale.
For example we often make diamond grillz that only have one diamond in each cap. To take that to the next extreme you may get someone who only wants one open face with one diamond in it. some people wouldn't call that a diamond grill, but to the person who gets it done can really say they have diamonds in their mouth.
One the other end of the spectrum you have a vvs invisible handset grill, top and bottom. These are the ultimate turn up design. Diamond Grillz like these are going to definitely be seen. The point of getting an expensive grill is to make a statement that says i'm doing good in life. I'm making money and i'm rolling right now. One thing about getting a Diamond set is that people are going to notice it far more than they will notice any other type of jewelry such as :Watches, Rings, Ear Rings , Necklaces and even Charms. the reason why is because as soon as you talk to somebody they're going to see a whole mouth full of diamonds changing colors
We all know that Superstars such as musicians, actors and sports figures set the tone for fashion in America. so to have a little fun lets have a look at some popular entertainers wearing their diamond grillz and describe what they have.
Diamond Grillz has a row of floating channel set diamonds going across the tip of her bottom teeth with a floating diamond cross strip in between her front two teeth.
apparently spent $250,000 on a flawless baguette diamond set. Baguette strips in a diamond grill is a very delicate  setting which makes the set even more precious. Each diamond was carefully selected to make sure it would all be a flawless set. The designer of the grill said it took him 6 months to make.
Has an iced out channel set bar going across the tip of her front four teeth with a pave setting on extended fangs. I absolutely love the fact that a super star diva has a gold grill. it goes to show that anyone can get a gold grill. to me Beyonce is a girly girl, professional, lady who is obviously rich and successful. she breaks every negative stereotype about people who wear golds. She's showing everyone that its all about getting something for yourself that will make you smile. having fun and enjoying life.