Start Your Own Business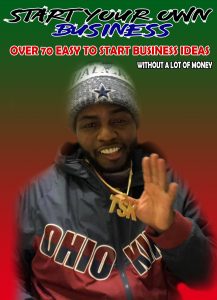 START YOUR OWN BUSINESS
You can start your own business while working at your current job or while your in school. Your coworkers and classmates will become your customers. Here is a list of 78 business ideas you can start without a lot of money.
Auto Detailing (& Washing)– It's fairly easy and requires only a few cleaning products and the desire to use a little 'elbow grease'. Many times being a low cost supplier of this item will go a long way, as many people desire a detail on their car, but don't want to spend the typical amount charged by a large scale car cleaner.
Onsite Oil Change Business – You may have seen this side business in your work parking lot. Changing oil is a pretty simple thing if you know what you're doing. By offering a service of coming onsite for the oil change you save the customer their most valuable asset – time.
Nanny / Babysitting – Many of us have made money babysitting in the past when we were in high school or college. This business is generally pretty low stress, good hours, and if you adore kids – is pretty enjoyable. One great way to get into this business is to sign up with ananny service.
Barber / Hair Design – you can run this type of business today out of your kitchen. All you need to do is sell your skill and talent and do it. You DON'T NOT NEED A SHOP OR A SALON TO DO HAIR!
BBQ Sauce Maker (or other Sauces & Gravies) – This one is rarer to see, but once in a while you come across a friend who loves to make their own specialty sauces from scratch. If you think you have an outstanding BBQ sauce, then why not market it and sell it? You never know where it will lead you. I kid you not, this is how sweet baby rays got started!
Bed and Breakfast – Do you own a large Victorian home with many rooms? Maybe you want to consider opening a small bed and breakfast? This small adventure could lead to a much larger business in the future, but even running it small scale could bring in some big bucks.
Bookkeeper (calling all QuickBooks Experts) – Even if you don't have an expertise in QuickBooks, this is a nice side business that you can do on your own time and will pay you well. There are a number of small businesses out there that need a book keeper, but don't want to pay someone full time. This is where you come in and meet the existing need.
Blogging (not recommended). Although I don't recommend blogging as a business unless you're willing to work endless hours for free and desire to wait 2-3 years to start making some side money on your blog. Those making money blogging make it look easy, but I'm here to tell you it isn't… It's one of the toughest side businesses I know of and requires endless patience.
Business Coach – Are you a business expert, an MBA, or just very business savvy in marketing, finance, and management? This may be your 'side income' ticket to greatness… I have more than one friend who is a business coach and the money & hours are excellent. There are many full time businesses out there who need agood business coach in order to be more successful – you could be that person.
Candle Making– Some people love candles, some even border line on a candle. Making candles is a fairly easy process and many people love them. Creating your own custom candle business to sell online or at your local shops could bring in big profits.
Candy Making – Ooohhhh, I love candy – enough said!
Specialty Card Making (think Wedding cards … cha-ching!) – If you're good with Photoshop, then making specialty cards could be your big ticket. Many women these days are searching for great wedding cards that are not the normal run of the mill. I believe this market is a good one to get into… and did I say, "lucrative?!" One avenue in selling your cards is to usecom until your business website gets off the ground.
Catering – t running a catering business as a side business is possible if you're a good cook and have basic business knowledge. So if you're a 'top chef' fan, maybe this is the one for you.
City Publication (local newspaper on events) – Think of your own community. Is there a need for a free local newspaper that can deliver local event information and simple articles relevant to your community? Creating a local publication can be a simple side business that meets a need in your neighborhood. My general recommendation for making money this way is advertising. This may mean you have to eat some of the costs up front, but if you're successful – the advertisers will find you.
Crafter of Items (Knives, Pedal Boxes, Lamps, etc.) – I'm always amazed at the talent possessed by so many people out there. Maybe you have a talent with your hands and can make nearly everything. Think of what you like or could craft (knives, pens, lamps) and consider making it a business. You can sell these on esty, ebay, or to local shops and may make a few extra bucks doing something you love.
Day Care Service in your Home – Many of us know someone who runs a day care service out of their home. In many ways this can be as large or small as you like it, and you need very little equipment to start. If you love taking care of kids, than this may be for you.
Commercial Cleaning Services for Businesses – I've gone back and forth on starting this specific side business myself. Almost every small business and office needs a janitor service. Someone who will come in after hours and clean the office, which makes it a perfect fit as someone's side business. If you looking for something at night, and are willing to do the dirty work – this may be the perfect opportunity. If interested, I would start my marketing in this area to small offices like doctors, lawyers, and chiropractors.
Collectible Trading – I remember as an 8 year old thinking my baseball cards would be worth something big someday. Little did I know that my Jose Canseco rookie cards were worthless J
Associate College Teacher (Part Time)­– This isn't a business per say, but it is respectable and good side work that can bring in some extra money. Keep in mind; you will need a Master's degree to get in the door… But finding teaching work 2 nights a week is not all that difficult if you have the qualifications.
Computer Repair – Are you a computer expert? Do friends call you up every time their computer dies and they need you to look at it? Computer repair is a great side business idea and can definitely bring in a few hundred dollars a month. If you're really good, you can also build your own computers and sell them onCraigslist/Ebay for profit. Oh Yeah!
Computer Programming / Consulting – If you're a computer programmer and have never looked intoElance – I highly recommend you do it now. (Or right after reading a few more posts J). With services like Elance, you can easily connect your computer programming skills with legitimate business opportunities around the world. If you already have some of these skills mastered, look no further – your side business is staring you in the face!
Cookie Making & Baking – Raise your hand if your wife makes the best cookies? Well, my hand is raised… I have yet to eat a chocolate chip cookie as good as my wife's. They are moist, thick, and very yummy. I should probably insist she start a cookie company and sell them for profit. If you think this idea is far-fetched, check out thisexampleof someone doing this today…
Cruise Planning – With the financial hardship that many people are under, there is a renewed interest in taking cruises for vacations. I believe this is because a cruise is usually less expensive than the traditional vacation and can still provide an amazing tropical experience. If you are good logistically and love traveling, maybe a cruise planner is just for you. There are numerousfranchises available, but I'm betting this can be started from scratch with a little extra effort.
In House Chef – may be an expert chef and have found your passion in cooking. If this is the case, consider creating an in-house chef business. In most cases these chefs will show up to the customer's home, make them dinner, and then clean up after. When I think about it, it's a superb side hustle.
Editing / Proofreading – Many people these days have a natural talent in the English language and just know how to write so that the reader is engaged and focused. If this is you, then your skills set is designed for editing and proofreading. Making this a side business that brings in some extra bucks may be for you.
Event Coordinator – If you happen to be someone who excels at project management and is highly organized, you are a perfect fit for an events coordinator. This is a pretty significant and lucrative side business that you shouldn't overlook. Some examples would be wedding planners, party planners, and corporate planning.
DJ – I have a couple friends who are DJs and do this as a side hustle. This is one of those businesses that you probably shouldn't try unless you are 100% certain you will succeed. For example, if you are sitting there wondering if you could be a DJ – then you're probably not cut out for it. Being a DJ takes some natural music talent.
Personal Trainer – Do you enjoy working out and getting in the gym every day? Do you know all the different weight lifting techniques to build larger biceps, triceps, and traps? – then this may be for you. It takes some interpersonal skills and some exercise knowledge, but if you're already in that world it's an easy transition to make a side hustle out of it. (But, keep in mind you may need to get acertification to officially work for a gym)
Freelance Writing – if you love to write….. simply write out other people's ideas and sell it as a service! .
Furniture Making – I would not want to purchase a piece of furniture made by me. You would likely crash to the floor during the first use. But, if you're not like me and love woodworking as well as designing furniture – then this business may be for you. While starting up, a natural place to sell your furniture would beCraigslist.
Furniture Repair. I personally think this is a nice side business that could easily bring in a couple extra hundred dollars a month.
Gardening & Weed Services ­– I'm too cheap to hire a gardening and weed service, but I know my neighbor isn't – because I see the local business he has hired to manage his weeds, lawn, and even snow plowing on a weekly basis. Being a low cost provider in this area, I believe would also go a long way in building up clientele.
Graphic Design (calling all Photoshop experts) – This is a great side business and all it takes is a little skill in Photoshop. I have a family member who is great at usingPhotoshopand designs wedding cards, birthday cards, and the like with it. Selling her products on com, has brought in a nice side income for her.
Gutter Cleaning – If there is one thing I hate doing around the house its cleaning gutters. Especially the gutters on my 2nd This is because I rather dislike heights and prefer to not stand on the corner of my roof. If you are one of those guys who doesn't mind pulling garbage out of a roof gutter – than this may be for you.
Handyman Services – Handyman services are great., many people are not mechanically inclined and would take advantage of an honest, competent handyman – especially those who are elderly and need this type of help around their house.
Home Inspector – Now a days, home inspections costs somewhere around $300 – $500, and can be completed in 2 hours or so. This is a great side business, because you can schedule your inspections around your free time, and still pick up some nice profit. Keep in mind, you will need to becertified to enter this market – but I believe it's a small price to pay for such a great 'side hustle'.
Home Appraiser – Just like home inspections, home appraisers are needed to assist with home refinancing and new home purchases. They generally cost around $350-$500, so the profit can be pretty good. This industry has also now gone to government control, so appraisers are assigned out for jobs instead of the customers choosing their own appraisers. This makes it easy to find customers.
Home Staging (for selling) – If you have an eye for decorating, and understand what it takes to sell a home – than home staging could be for you. I've watched enough of HGTV, to know that home staging can make a huge difference in the sale of your home – both in speed and dollar amount. Why not use these skills to make some side money in the process?
Housecleaning – The 'old faithful' of side businesses. Many people these days are so busy with their lives, that they just can't find the time (or desire) to clean their own home. This side business has easy entry and can provide a little bucket of change to use for your spending pleasure.
Hunting Guide – . If you are one of these individuals, maybe consider a side business that involves hunting – such as guide. This can also be true in the areas of fishing as well. Those who love to hunt and fish are many times looking for an experienced guide to help them bring home the big buck or the world's largest fish.
Interior Decorating / Design – Some people are very talented at interior design and others have taken classes and certifications in order to be the best interior designer out there. Either way, starting an interior design 'side hustle' is a low cost way to turn that passion into a cash flow stream.
Jewelry Making – Friends of ours in town recently decided they wanted to adopt a little girl from Ethiopia. Because the cost of adoption is tens of thousands of dollars, they started a jewelry making business and sold the necklaces for adoption funds. Before long, they had thousands of dollars available to complete their adoption!
Beef Jerky Maker – I've had homemade beef jerky (yum), but have yet to come across someone who has made it into a business. That being said, I know it's a viable side business option, because I canbuy homemade beef jerky here.
Knitting / Crocheting / Quilting –Can you knit, crochet, or quilt? Use that skill to make blankets or clothing that others will want to buy? And don't believe the haters that no one will want it.
Life Coaching –Being a life coach is a new thing lately… There appears to be many individuals entering their 20s, who are looking for someone who can coach them into their middle ages. This coaching can entail anything from finances, career goals, and even romance – so if you think you are skilled in these areas, maybe consider being a life coach.
Yard & Landscaping Services – This one is the no-brainer of the bunch. I remember as a teenager having a side business of this type mowing the lawns of my neighbors for cash. As a 15 year old boy, it was a great side business and the profit wasn't bad either.
Motorcycle (Powersport) Repair and Service – Do you love working on old cars or vehicles? Turn that skill into cash by opening a small motorcycle repair shop. You can operate this out of your garage and because of the size of the vehicles, easily pick them up for repair from the owners. To get into the market quickly, I recommend picking a niche brand, like 'Harley Davidson' motorcycle repair.
Movers (if you have a strong back) – if you have a strong back, this is an easy industry to make some significant dollars. You don't need to start a moving company across the country; even just a local company that is honest and careful with people's belongings goes a long way in building a customer base. In this business, 'word of mouth' advertising is key.
Online Media Consultant – Are you an expert on social media? Do you know Facebook, LinkedIn, and Twitter like the back of your hand? Do you have a real skill in SEO, online marketing, and the tricks of the trade to increase traffic? If so, consider starting an online media consulting business. Many businesses out there are clueless on these skills and your expertise can make them successful and your 'side hustle' at the same time.
Photographer (big time!) – Last but certainly not least is photography. It may be the single best side business on this list because it can be so lucrative and will usually turn into a 'full time' business for those who are excellent at it. For great tips on being an excellent photographer, visit 'Digital Photography School', a free website with over 1,000,000 subscribers.
Painting (Interior / Exterior)– There is a local business in my town called 'College Painters', it is a business that paints houses around town and I see their signs everywhere. As you would guess, it's run by college students and they do a nice side business. (probably more like full time business $$) Just goes to show you that anyone can make money on the side if they are willing to do the work.
Personal shopping– Do you like to shop? Maybe personal shopping is for you. Many large malls and department stores have connections to personal shoppers for those who are too busy to shop, but still need something purchased for them. Many times these clients have discretionary money to spend, so they are willing to pay for a personal shopper. If this peaked your interest I recommend doing some research at your local mall office.
Pet grooming –I always thought this business would be great for a pet lover. It is fairly easy to set up, takes minimal investment, and easy to maintain continuous clientele after the business is up and running. Do you love animals and a steady hand, maybe this is your dream side business?
Pet sitting –Once again, an easy side business for those who love pets. Anyone who has a dog knows that the need exists for a good pet sitter. This is one of those side businesses that could easily grow into a full time gig, or stay part-time if you prefer.
Pet walking –This side business is huge in a big city like New York. Pet walking is big business and is a requirement for the busy professional who also owns a pet. I personally know one individual in NYC who makes some nice side money walking dogs.
Pet yard waste cleanup(pooper scoopers – baby!) – This business is not for those who hate poop, as your main job is cleaning it up. Think of it as waste management for dogs… Although the business is not glamorous, the business need is solid with no shortage of demand (poop never ends, right?).
Pet Fence (electric) Installation –Personally I love this side business. My good friend in town owns the rights to one of the big name pet fence installation franchises and does very well installing underground fences. He runs this as a small side business on the afternoons and weekends in addition to his regular job as a teacher. The best part about this job is that it is low cost to start, high profit, and you can manage it as a side business with little overhead. This is easily probably one of my top 5 side business options if I was opening a side business today.
Plumbing Repair & Installs –This business is great if you already know something about plumbing. Keep in mind you may have to be licensed in some states, but if you operate in a state that doesn't require a license you could still open a small side business doing one type of project like 'garbage disposal installation' and expand as needed. (You don't have to specialize in every aspect of plumbing)
Produce Selling(like selling fruit on the freeway?) – Yes, just like selling fruit on the freeway! Produce selling is big business, especially if you own a small or large hobby farm. In the Midwest, where I live, it is common place to see small businesses selling fruit and vegetables on the side of busy streets. Some of the freshest produce can be purchased this way and I take advantage of it whenever I can.
Refurbish Expert (jewelry, shoes, furniture) –Another great side business is to become and market yourself as a 'refurbish expert'. A common refurbish expert in my area is 'furniture repair'. I personally used a furniture repairman the last time I moved and my dining room table was damaged by the movers. Thankfully the repair guy was quick, efficient, and did an excellent job. As he was leaving the house I thought about how great a side business furniture repair would be if one was skilled with wood and fabric.
Roofing –I've done some roofing in the past and it's not exactly my cup of tea. However, it is a great side business and fairly lucrative if you don't mind working on a roof and some hard labor.
Scrapbook Making –This side business has become more and more popular these days, or it's just that I'm now more aware of it. Either way, scrapbooking is big amongst soccer moms and organizing a scrapbook party can be big business, even at the same level as selling makeup and other household items.
Snow Plowing–t if you have snow throughout the winter, someone has to plow it. In my town, this small business is an excellent way to make some side money and not be overwhelmed. Essentially you can pick up as many accounts as you need (or want) and not get burned out in the process.
Senior Citizen Assistance & Care –This is a side business that provides a lot more than a little side income, it also provides tremendous joy and personal satisfaction. I say this, because in pursuing this venture, you also pursue the health and happiness of others – specifically those in society that significantly need assistance. I personally think this business is a tremendously attractive option for a side hustle, not because it can generate a nice profit, but because of the nature of the service it provides.
Sewing and Alterations –I'm personally not much of a sewer, but I know there are many of you out there who love to sew and probably have a sewing machine with all the tools necessary to start this business. There is one woman in my town who runs this business full time out of her house. She has done numerous alterations for me and my family and makes a very nice profit doing what she loves. Maybe this business is the business you've been waiting for?
Soap Making –I have not met anyone who is a professional soap maker, but I do know it is a viable business option. I see this option as being attractive for specialty stores, especially in the 'green' industry where people desire 'all natural' products. If you were skilled at marketing and can handle making soap – this may be for you.
T-Shirt Design (As wells as coffee mugs, pencils, etc.) –T-shirt design has always been intriguing to me, t-shirt design is an attractive option for a business in my mind. Once you have the necessary equipment, I've been doing this for the last 7 years and it's a good side business
Tile Guy (or Girl) –Do you have skillful hand and know how to tile? Even if you don't know how to tile, picking it up is pretty easy and the side business options are numerous. Tiling is something that takes a little skill, but once you know this skill, all the costs can transfer to your customer. Also, you can usually do a tile job in the evenings or on the weekends – clearly a great side business!
Toy Making –Maybe you're an elf or just like the idea of making toys for kids – either way, if you think you would enjoy making a specialized toy. Toy making may be for you, and making it big as a custom toy designer is possible… just read the story of the toy company "Melissa and Doug", it will give you the desire to start out and get rolling!
Tutoring (English, Math, & Science are good examples) –Maybe you aren't skilled in making toys or tiling a bathroom – but you may be skilled in Math, English, or Science. If you have these skills then you're in business! There are numerous needs for individuals with these skills to tutor those who are learning. Any easy way to get involved is to work for a tutoring service like Sylvan Learning Center.
Videographer –This is a new up and coming skill, especially now with the internet and the popularity of YouTube. Creating engaging videos is not only enjoyable for those who love this business; it is a great need for any business in the community. Just think of the difference you have when you visit a website with a 'professional' video compared to outdated material. If this business is for you – don't wait, get started today!
Virtual Assistant –A virtual assistant is just that. An assistant to help you with anything!! Getting into the virtual assistant world can be a bit challenging as it will take some time to build up a business in this area. But, if you're willing to have patience and to do an amazing job – being a virtual assistance can be extremely rewarding side hustle.
Website Design –I love this business, I just don't have the skills to pursue website design as I only know a minimal amount in regards to designing a website. If you do have the skills to start a website design business – What are you waiting for?!?! This is a great side hustle. You can do all the work from home at times that is most convenient for you and the profit margin is spectacular. Hands Down, this is clearly one of the best side business ideas out there. (if you have the skills!)
Wedding planner –There is something about weddings that makes women go 'rat' crazy with spending money. Note, this is where you come in… If you're skilled with project management and have a creative eye, then becoming a wedding planner may be for you. I've never investigated the full range of fees involved with planning a wedding, but most wedding planners make about 10% of the cost of the wedding – or if they are only employed for the day, they can make around $500 a wedding. Still, not a bad side business!
Wedding Cake Creation–Calling all bakers! Do you like to bake and do your cakes actually taste good? Then make it a niche business by starting a wedding cake business. If you haven't checked, wedding cakes are expensive – so the profit must be good. Also, you can build up slow and only take on the projects you want… making this an ideal side hustle.
Window Cleaning –A good friend of mine put himself through an expensive private school with this business. Essentially he started a window cleaning business and found himself making thousands of dollars on the side every month, while he was in the midst of taking college classes. Why does this business work? Because most people don't want to clean their own windows, and businesses certainly do not. That means there is an endless supply of potential customers at your fingertips. Get started today!
Windshield Repair –We've all seen them out in the parking lot of the business we work in. Small business windshield repair guys. Generally they come to your place of work (or home) and replace your windshield on the spot. This business may be more difficult to convert into a side hustle, as you may need to be available during the normal 8 to 5 – but if you work in an industry where you can swing this (like nursing or firefighting) then this may be a great side hustle for you.
Youth Sport Leagues –Enjoy sports? This business may be for you. Even if you don't want to create a small side business for this type of venture, you can easily make it a small 'side hustle' by working as a little league or softball umpire, basketball referee, football or soccer ref!
The point in this list is let you know, you don't need a college degree or a loan to start your own business. All you need is to simply find a service or product you like and sell it. YOU MUST PROMOTE WHAT YOU'RE DOING. You can easily get commercials on t.v for whatever service you're offering. You need business cards to pass out to everyone you come in contact with to get your name out here.
When I started Gold4YaMouth I would carry stacks of business cards on me everywhere I went. I had my picture on the card, which gave me pride to pass out a card with my face on it saying……"hey this is my business, come check me out"
Having a business doesn't mean you have to get a store front, or have people working for you……. You are simply creating a job for yourself! The key is promoting your service or product in a creative way.
Don't be afraid to start very small. You can bake a cake and sell slices to your class, church or workplace! Once you make your first couple of sells…… you're confidences will grow.
You can always be a middleman as well. Simply hook two people up who need each other. Get paid for being a broker
The more you promote your service, the more business you'll get. You must be relentless, bold and unstoppable in sharing your service or product.
You will have to put flyers on cars in parking lots, speak at your church, make hundreds of calls per day. But at least you'll be working for yourself.
These are the Bottom Lines
IF YOU WORK AS HARD FOR YOURSELF, AS YOU WILL AT A JOB FOR SOMEONE ELSE
YOU WILL BE SUCCESSFUL!